| | |
| --- | --- |
| Speaker : | Francesca Bassi (SystemX) Gabriele Castellano (Huawei) Céline Comte (CNRS Toulouse) Rémy Léone (Scaleway) Leonardo Linguaglossa (Télécom-Paris) Flavia Salutari (BNP Paribas) |
| | |
| Date: | 08/02/2023 |
| Time: | 5:30 pm - 7:00 pm |
| Location: | Room 4C06 |
Abstract
WHAT NEXT?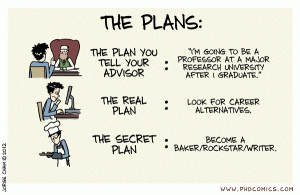 Navigating the PhD is certainly not an easy task, but making decisions about what to do next can be even more complicated and stressful.
@LINCS we know how difficult and disorienting this can be, thus we invited some former LINCS members (who were in this situation only a few years ago) to tell us their stories.
We chose people who undertook very different paths: they ended up in academia, in startups, in big companies, in public institutions… They are all easy-going and nice people, ready to share their experience, including all their doubts, their hesitations, their failures, their inspirations, etc.
It is good to have an idea of "what's outside" and it is important to think about what can make you happy. Different paths bring different pros and cons, which it is worth exploring. Together is definitely better!
We hope to see many PhD students participating in this event 🙂 Lot of time for Q&A and something for an apéro!
LIST of CONFIRMED SPEAKERS:
Francesca Bassi (SystemX)
Gabriele Castellano (Huawei)
Céline Comte (CNRS Toulouse)
Rémy Léone (Scaleway)
Leonardo Linguaglossa (Télécom-Paris)
Flavia Salutari (BNP Paribas)
Here're the slides of the event with a description of the best and worst aspects of each speaker's professional path.
Here's the flyer of the event.